Do you want your company's logo and corporate identity to project a professional image and to show you in the right light?
Of course you do, but does it? From the outset our team at Red Chilli Design will seek to understand the needs of your company. We will carefully consider who you are, what you're aiming to achieve, and who your target audience is. And we will study your competitors too (it never hurts to see what they're up to!). Our team will ensure that whatever brand or logo we create, it will be unique, bespoke and stand out from the crowd.
We will work along side with you and give complete flexibility and advice while developing your logo and business identity. Depending on your aspirations we can provide you with varied design choices or even in-depth reporting to accompany your brand image.

A corporate identity isn't just about having a nice shiny new logo. Structured, researched and thought out rules on graphic design; positioning, colours and use of fonts will also be considered. This attention to detail is useful in the long term so your corporate Identity can be consistently applied to all aspects of your marketing material including brochure design, catalogue design, newsletter design, direct mail design, advertising design, exhibition design, website design and build, email marketing design, livery and signage etc. We can also produce guidelines to show how your corporate identity should be implemented.

Red Chilli Design have branded some of the regions most successful new businesses and helped them through the creative process to re-brand and re-energise. We design for pharmaceuticals, healthcare, finance, accountants, dentists, business support services, housing associations, councils, telecommunications, tax specialist, waste management, florists, training, marble and stone importers, nurseries, restaurants, takeaways, estate agents, overseas property developers, boxers, franchise businesses, catering and many more sectors.

Take a look at our portfolio of brand designs we have created. These cover sole traders, start-up businesses, partnerships, entreprenuers, SME's, limited companies and national PLCs.

If you are a start-up business Red Chilli Design can offer corporate identity packages that include logo design and business stationery packages. For further information please call our team 01204 467866.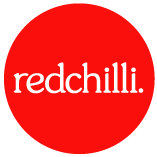 Meet.
Red Chilli Design Ltd
Media House
353 Halliwell Road
Greater Manchester
Bolton
BL1 8DF